Welcome to Infinity
We are a design & build bowling company that manufactures custom themed DuckPin Social Bowling or Full-Sized TenPin bowling alleys
We stand ready to build YOUR system!
The "Original" Short-Lane Bowling Attraction
Infinity started the short lane social bowling craze 25 years ago with the original small ball bowler MiniLane™ a 50% to scale tenpin bowling system.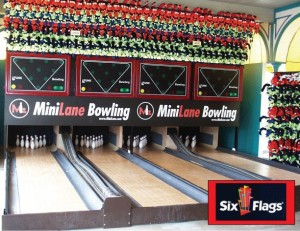 A couple offspring's of MiniLane™ was our Midway Bowling Attraction developed for the Six Flags Amusement parks.  Ninja-Bowl debuted on Rob Van Winkle's DiY TV hit series, "The Vanilla Ice Project."
Infinity's Full-Size TenPin bowling system premiered on DiY networks presentation of Rev Run's Renovation, the family's basement was transformed into an entertainment showplace. 
Social DuckPin Bowling is by far our most popular attraction.  All of our experience has led to the most Authentic DuckPin Bowling system on the market.  Infinity Diamond DuckPin™ Bowling is not a space eater nor is it a kids arcade game.
Bowling is our ONLY Business
Infinity manufactures the most realistic bowling alleys on the market today.  Pinsetters, lanes, pins, custom ball returns & custom balls, we provide it all.
We prefer to custom design a bowling system for your style, your footprint and your theme, as opposed to the "one-size-fits-all" canned repetitive themes.
You Provide the Space we will fit bowling in it
Our space friendly attractions are perfect for your business or home.  The Diamond DuckPin™ Social Bowling Attractions are an anchor draw in a fun center, or as a major show-piece to attract and retain customers in a bar, nightclub or eatery.