Why Invest in DuckPin Bowling?
Because Everyone Can Go Bowling!
Demographics for Bowling Span the Socio-Economic, Age & Cultural Spectrums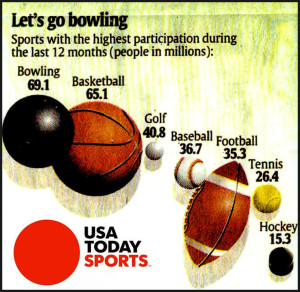 DuckPin Bowling is an attractive investment because everyone can Go Bowling!  Demographics for bowling span the Physical, Socio-Economic, Age & Cultural spectrums. 
There are very few limitors concerning age, disability, occupation or race.  From the CEO to the Janitor … Mom, Dad, Brother or Sister … Grandma & Grandpa … Boyfriends or Girlfriends all like to bowl. 
Guys or Girls night out … Date Night … School or Church Events … Birthday Celebrations … Corporate Outings
There is always an occasion to bowl … Target yours
You have the opportunity to provide the place they will want to go.  Bowling will enhance your ability to become the primary provider of FUN & leisure entertainment in your area.

Welcome to America's New Hangout … DuckPin Bowling
DuckPin bowling is our most popular attraction.  DuckPin is not a space eater nor is it a kids arcade game like Mini Bowling.  It is the perfect hybrid bowling system.
Families are brought together to bowl along with all generations including … hipsters that dig it … millennials' thrive it … GenXers' strike it … and baby boomers' can still do it!
Infinity DuckPin fits most anywhere & requires ONLY one-third the space of traditional bowling.  Locations are experiencing long waiting lists to bowl and per guest stays average over 3 hours per visit.
Infinity is Bowling Re-Imagined … Infinity is DuckPin Bowling!
Stand on Floor • Approach-Less 4ever
Phenomenal Return on Your Investment
Many Locations have Complete Payback inside First Year
Infinity DuckPin Bowling can typically pay for itself in less than 12 months' time.  This can yield quite a first year gain.  Properly priced & promoted there are Infinity sites averaging over 8 hours of bowling play every day with payback in 90 days!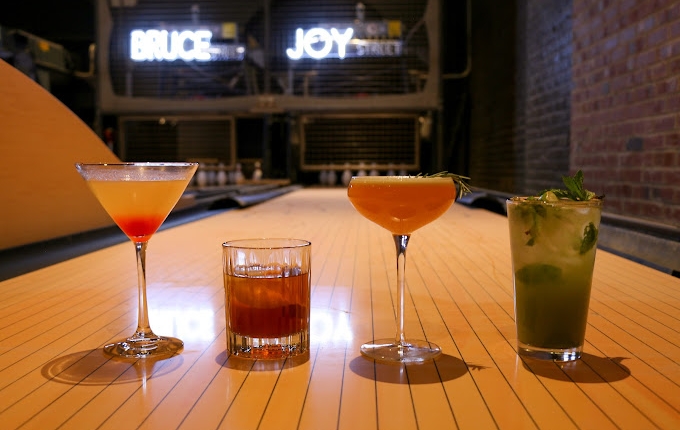 EXTRA MUSTARD –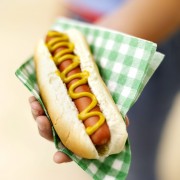 Food & drink revenues are perfect revenue complements.  Unlike any other activity, bowlers eat a lot, drink a lot and have a bunch of fun while participating.  For every dollar spent on bowling, Two to Three times as much can be spent on food & beverage during a game of bowling!
Our Bowling Attractions are built to last, without planned obsolescence, there is a proven 30 year plus life-cycle for our pinsetters & lanes.  After your initial outlay of funds for the capital equipment, there is virtually no marginal cost involved in the selling of a game of bowling once the asset is paid for.
You are investing in a CLASSIC attraction, not a novelty game that is going to die off in 6 months.  Once paid for the attraction is pure profit.  Evaluate the investment over a 5 year period … a 10 year period … Even after 20 years this baby performs.
Location Location Find Yours
Build Ground Up or Demo an Existing Building
Hoppin'Vines Suburban Cincinnati Converted a TGI Fridays
Customers are Flocking to our Social DuckPin Bowling concept at Hoppin' Vines in Cincinnati OH.  Hoppin features Craft Beers, Fine Wines, Spirits, Coal Fired Pizza & Infinity DuckPin Bowling.  This is "America's New Social Bowling Hangout." 
Demographics for this site span socio-economic, age and cultural spectrums. This suburban bar & eatery brings families together along with hipsters' that dig it, genXers' that strike on it, millennial's' thrive on it & baby boomers' can still do it!
Average length of guest stay is OVER 3 hours per visit with long waiting lists to accommodate the non stop action. This is bowling on steroids with soaring profits!
Visit Hoppin' Vines, Suburban Montgomery OH: www.hoppinvines.com
Plan for your Bowling Party
&

Settee Area

Bowlers eat a lot and drink a lot while playing … Accommodate them with comfort
Bowlers Settee Party Area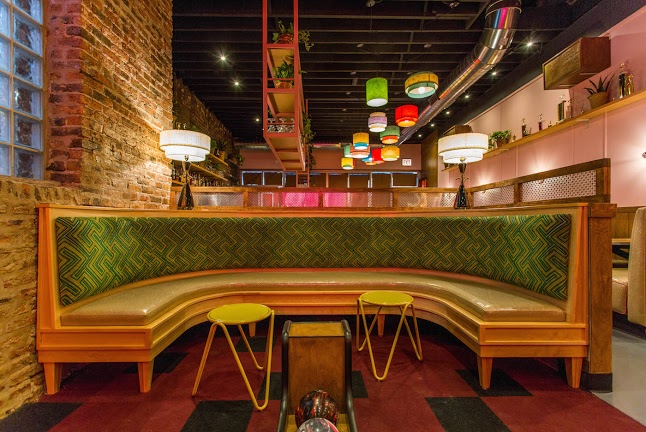 Keep & attract your guests while they eat, drink & bowl
Plan for players & spectators in front & around your bowling attraction
Provide tables, chairs, even comfortable couches
Beverage rails with stools on the side of the attraction is another consideration
Our expert team is here to help with your layout & design of your facility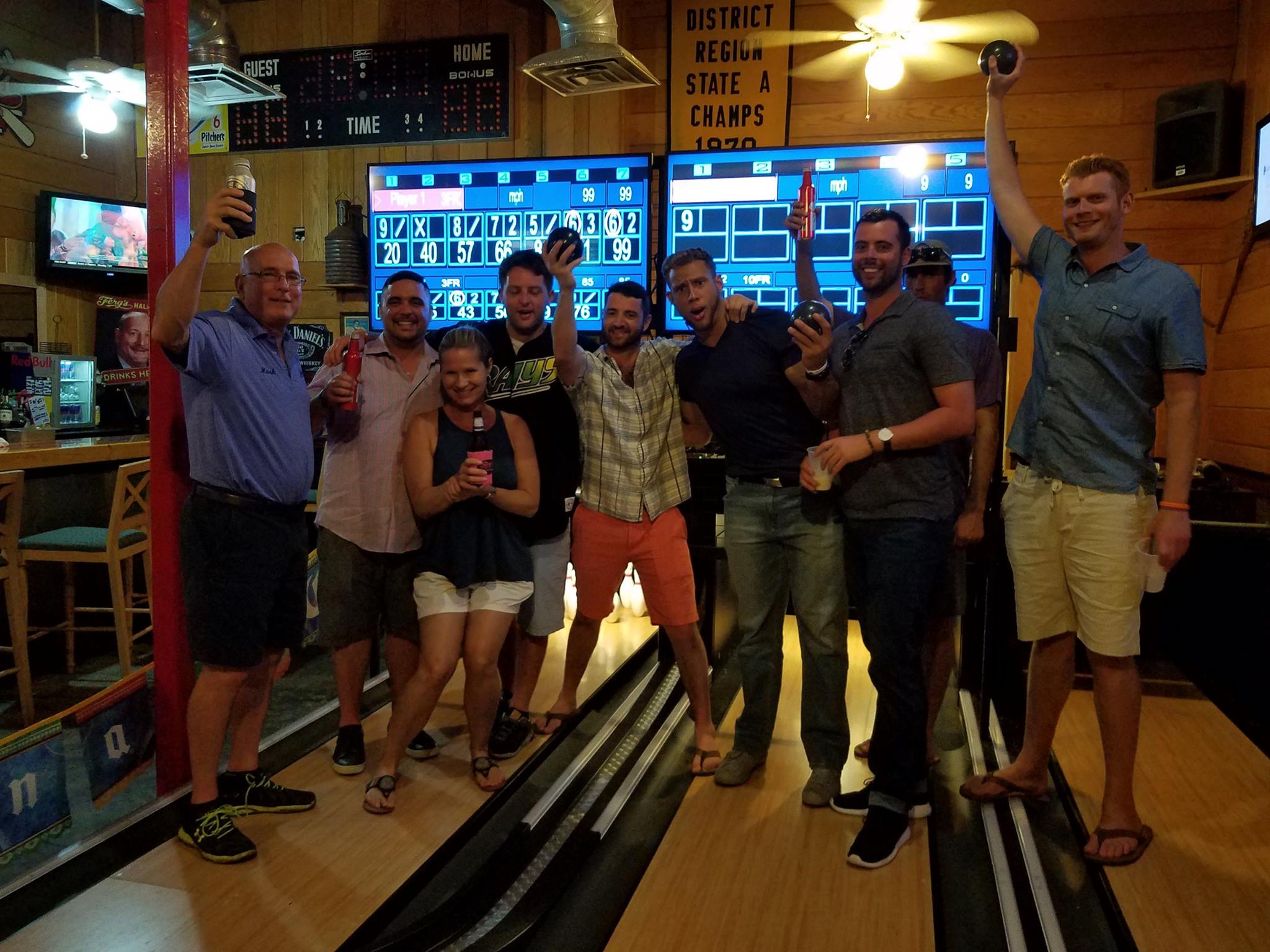 For the ultimate attraction let's create a DuckPin Social Bowling Party Room
Corporate Events, Team Building, Girls/Guys Nite-Out, Birthday Parties, Family Reunions, Fundraisers, Wedding Rehearsals all are ripe targets to market to
You can even form Leagues with retro Bowling Shirts promoting your business, they are quite fashionable
We Welcome You To Join the Diamond Duck Club
Welcome to America's New Hangout!
DuckPin Bowling is a very real bowling game, born in the early 1900's at the old Diamond Alleys in Baltimore, MD.  DuckPin is the ORIGINAL small ball game, a hybrid of TenPin & Mini.
DuckPins are played on a full size regulation TenPin lane with small balls, small ball gutters & an unique bowling pin.  This game of skill scores like TenPin bowling but you are allowed an optional extra throw each frame to pick up all ten pins.
DuckPin is more real & more fun than traditional bowling. The attraction spans generations; adults & kids love it, hipsters' dig it, genXers' strike on it, millennials' thrive on it, and baby boomers' can still do it!
Infinity revitalized this classic bowling game by providing modern pinsetters, autoscoring & lanes.  DuckPin is a game of skill & legend is a perfect 300 game has yet be thrown.
ADDITIONAL BOWLING FACTS: 
Bowling is a lifetime sport and knows no age or physical barrier.  It is easily the favorite sport for family together participation.
Bowlers spend the most dollars on recreation and entertainment. They consume more food & beverages while participating than any other recreational activity.
Bowling is the number one participation sport in the United States. Close to 70 million people bowl at least once every year. 
Bowling is an indoor recreation sport that is enjoyed year round. Day or night, rain or shine, anytime is the right time to go bowling.

THE DOLLARS & SENSE OF BOWLING:
Bowling is a cash business with little or no account receivables, inventory costs, spoilage or bad debt exposure.
Bowlers do other things while they bowl.  Ancillary income sources such as food, beverage, vending and arcade games contribute an additional 50 – 60% of total revenue.  If you plan to accommodate for party play,

many cases this number totals over 200 – 300% of the bowling revenues.
Since the invention of the automatic pinsetter in the 1950's, bowling has enjoyed consistent popularity during good and bad economic times. There are actually more bowlers participating in the sport today than there were in the bowling "boom" era of the late 1950's.
Bowling is an unique industry in that few, if any direct costs are incurred in the production of the product. After the initial outlay of capital for equipment, there is virtually no marginal cost involved in the selling of a game of bowling. The obvious result is the ability to increase the volume of business (revenues) while incurring little, if any, additional expense.

GLOSSARY TERMS & DEFINITIONS OF BOWLING:
Alley or Lane Bed – Surface on which the ball is rolled.
Approach –  The space extending back from the foul line used to make the steps and delivery.
Blow – A miss or an error failing to covert a spare other than a split.
Deadwood – Pins that have been knocked down.
Dead ball – A weak ball that has lost its drive, rotation, or forward thrust
Double – Two consecutive strikes.
DuckPin – Welcome to America's new hangout!
Foul – Touching the foul line or beyond in any way when delivering the ball.
Frame – A frame consists of two chances to knock down ten pins. There are ten frames in a game of bowling.
Gutter ball – An errant ball that enters the gutter before reaching the pins.
Head pin – The number one pin.
Hook – A ball that initially moves straight down the alley & curves towards the pin.
Kegler – German for a bowler.
King pin – The number 5 pin. It is a key pin to produce a strike a light pocket hit can leave this pin still standing.
Leave – Pins not knocked down on the first ball.
Open – A frame having neither a spare or strike.
Spare – To knock down with the second throw the pins standing left after the first throw.
Strike – Knocking down all ten pins with the first effort.
Strike out – Making three strikes in the tenth frame.
Triple or Turkey – Three consecutive strikes.
300 game – A perfect game consisting of 12 strikes in a row.  Never been done in DuckPin Bowling!